Guadalajara, Jalisco
Guadalajara, Mexico's second largest city and located in the State of Jalisco, has a population of more than 3.5 million people. The city is the choice of many American Industries and Manufacturers from Europe and Asia to Manufacture in Mexico or to locate a distribution center to serve central Mexico cities.
Development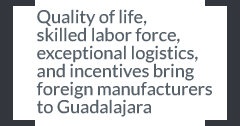 Guadalajara has always been a successful city with a quality of life and climate rivaling even San Diego in the United States. At the turn of the millennium Guadalajara became known as Silicon Valley South with electronics, telephony, computers, and their high tech supply chain clustering in the city. Unfortunately the large numbers of high-tech companies left for lower labor costs in Asia but the city remains the site of the bulk of computer manufacturing for the country of Mexico and some export to the United States.
Logistics
Distribution and logistics are big drivers of the Guadalajara Industrial Real Estate market now. It is an exceptional choice for manufacturing firms wanting to distribute throughout Mexico with well maintained roads connecting the city to Mexico City (Federal District) and Pacific port cities.
Infrastructure
Utility infrastructure, specifically water and electricity, can be a big challenge throughout Mexico. While incoming manufacturing companies typically take this infrastructure for granted, in Mexico the government owns both systems and has not made the capital expenditures necessary to keep up with the demand of a fast-growing manufacturing sector.
Even in seemingly modern industrial parks this can be an issue and a company intending to Manufacture in Mexico must follow a very specific path to establish the availability and cost of infrastructure. We help make that happen.
Incentives
The Mexican Federal Government Incentives and those Incentives offered by the State of Jalisco reduce the costs of a Manufacturing Startup in Guadalajara. For those industries which provide high-skill jobs, in-house training, and other community improving assets there can be substantial Incentives.
Incentives can range from a two-year waiver of payroll tax all the way to multi-million dollar grants for companies in strategic industries such as the Aircraft Aviation Industry in Mexico.
Commercial and Industrial Real Estate
American Industries and European companies looking to Offshore Group Production will find 15 Guadalajara Industrial Park options ranging from Intermex to El Bosque and Aeropuerto to El Salto.
Whether your company is in the Computer, Electronics, Aerospace, Automotive, Metals or other vertical planning to Manufacture in Mexico or set up a Distribution Center, there are Buildings for Lease, Buildings for Sale, and land to build a custom building available.
Contact Us for your Guadalajara Commercial Real Estate needs: [hidden email]